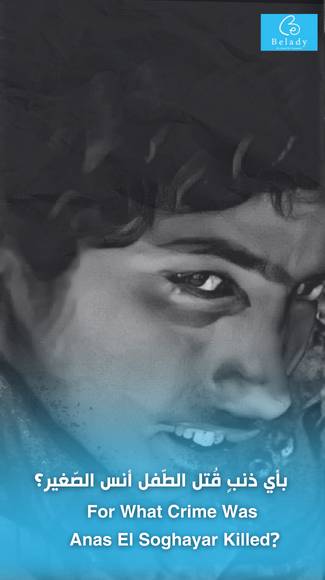 For What Crime Was Anas El Soghayar Killed?
The hashtag of the child Anas El Soghayar, named "Anas El Tayaha" after the "El Tayaha tribe," to which he belongs, has trended on social media in both Egypt and other Arab countries, attracting public attention. This was after the Egyptian content creator Abdullah El Sherif published a video clip of a child named Anas. The child appears to be injured, with bloodstained clothes and amputated limbs, due to a bombing by the Egyptian army of his familys home and other areas in North East Sinai province,
The situation worsened when the child was interrogated by the Egyptian army while he was injured, without making any effort to rescue him. The child answered to his name, and the tribe to which he belongs "El Tayaha" who are part of numerous tribes loyal to the Egyptian Army in its fight against terrorism.
The child did not pose a threat to the country or an immediate and unavoidable danger to the armed forces. Despite that, and in cold blood, they shot him dead with several bullets all across his body from less than thirty centimeters away.
Belady calls on the competent authorities to open an immediate, independent, and transparent investigation into the murder of this child, in order to find out the cause of this tragic accident which blew our hearts out of panic. Additionally, the perpetrators should be taken to trial, especially since no step or action has been taken since the date of the incident. To date, there is only inaction from the competent authorities.
Finally, it should be noted that the armed operations launched by the Egyptian army and its loyal tribal groups should be carried out in accordance with the law and that the perpetrators of the ongoing violations must be held accountable. We can not fight terrorism with terrorism.