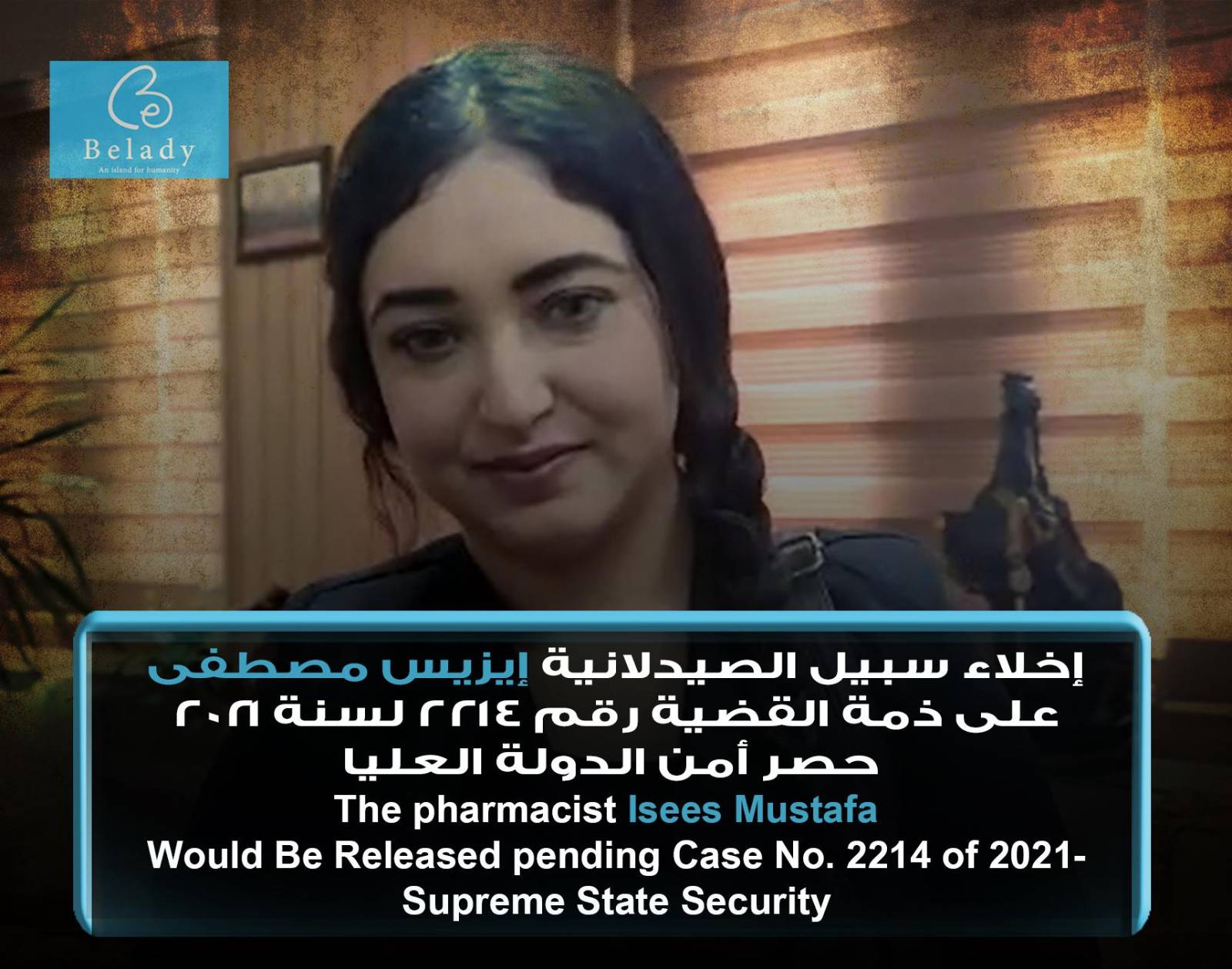 Cairo Criminal Court Decided to release the pharmacist Isees Mustafa Mohamed Ahmed pending Case No 2214 of 2021 Supreme State Security.
Some information about the case of the pharmacist Isees Mustafa:
– The young pharmacist is a 27 year old female who works in the special health unit of the village of Kafr Atallah Salama in the Al-Sharqia Governorate.
– According to Isees, things had been stable since the beginning of her work at the unit, until recently. Things changed when a new employee who had been appointed as "a clerk" in charge of the daily attendance and departure records began deliberately harassing Isis and offensively commenting on her outfits and on the fact that she does not wear a hijab (head cover).
– All this prompted Isees to file a complaint against
her colleague to the administrative prosecution. As soon as she learned about the complaint, the new employee along with other nurses in the unit assaulted the young pharmacist and threatened to imprison her as she claimed to have relatives "in positions of power and influence". Besides being physically assaulted , Isis was sexually harassed by a male employee while she was being beaten by her female colleagues.
– At the moment of the assault, Isees documented what happened in a video clip and took the legal measures that are supposed to protect her in accordance with the state's directions to encourage girls and women to document and report violence-related crimes, hoping to obtain her right.
– She went to the Zagazig Police Station where her statements were kept in record No.38399 of Zagazig Police Station 2021 Misdemeanours, according to which she accused her colleagues of physically assaulting and sexually harassing her.
– The video of Isees had been widely spread and had sparked outrage among social media users and many demanded justice for the victim, seeing that at the end of her video, Isis asked Dr. Hicham Massaoud, the Undersecretary of the Ministry of Health in Al-Sharqia Governorate, to intervene and investigate the incident.
– However on the 16th of October,2021, and to her surprise, Isees was arrested by security forces while she was in front of her pharmacy. She was taken to the police station where she stayed for two days before appearing before the Supreme State Security Prosecution which issued a decision to imprison her for 15 days on remand for charges of joining a terrorist group and disseminating false news despite her not being affiliated in any way with any political entity or civil society organisation.