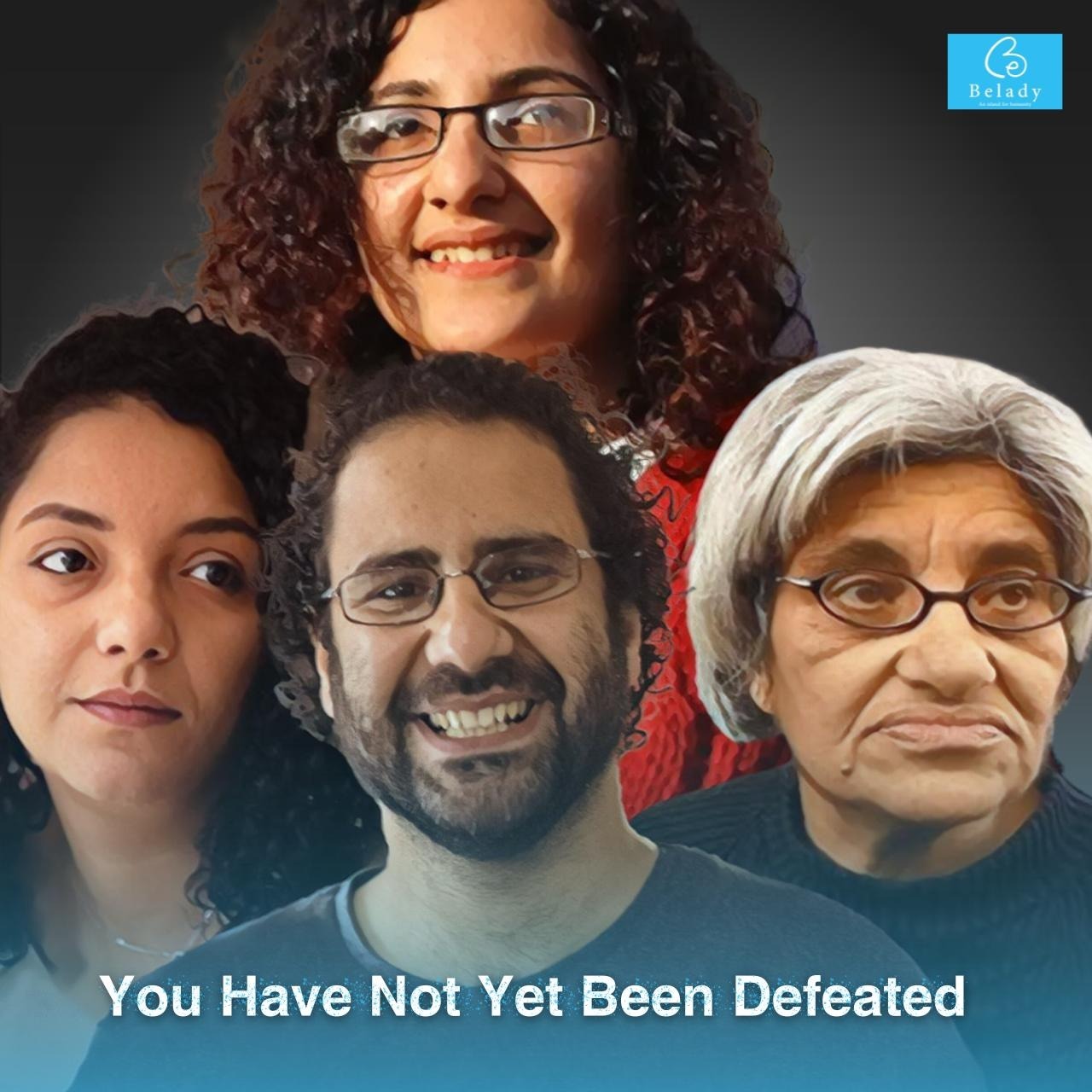 "You Have Not Yet Been Defeated"

في بداية اليوم الخامس لإضراب المدافع عن حقوق الإنسان علاء عبد الفتاح عن شرب المياه، بعد إضراب متواصل لما يقارب السّبعة أشهر عن تناول الطّعام، وتزامنا مع صدور بيان هزلي من النّيابة العامّة المصريّة، تشكّك من خلاله في إضرابه وتؤكّد على استقرار حالته الصّحيّة، في ظل منع أسرته ومحاميه من زيارته، إضافة إلى أنّ الاعتداء على أسرته بالضّرب عام 2020، ومن ثم القبض على شقيقته الصّغرى سناء سيف على مرأى ومسمع من النّائب العام.
تتضامن بلادي مع عائلة المحاميّ الحقوقيّ الرّاحل سيف الإسلام، وحفيده الطّفل خالد البالغ من العمر 11 عاما في غياب شبه تام لوالده الّذي لم يحضر حدث ولادته بسبب تواجده داخل السّجن.
كما تطالب السّلطات المصريّة بإطلاق سراحه، ووقف التّنكيل به، وبأسرته الّتي دفعت باهظاً ثمن مشاركتها في ثورة الـ25 من يناير، والسّماح لعائلته ولمحاميه بزيارته والإطمئنان على حالته الصّحيّة والجسديّة في الوقت الراهن.
"You Have Not Yet Been Defeated"
On the fifth day of the human rights defender Alaa Abd El Fattah's refusal of water after a continuous hunger strike for nearly seven months, in conjunction with a paradoxical statement by the Egyptian Public Prosecution questioning his hunger strike and emphasizing the stability of his health condition, and in the light of prohibiting his family and lawyers from visitation, assaulting his family by beating on 2020, and arresting his younger sister Sana Seif in full view of the Public Prosecutor,
Belady is in solidarity with the family of the late human rights lawyer Saif El Islam and his eleven-year-old grandson Khaled whose father was partially absent as he was not present when the child was born due to his imprisonment.
Moreover, Belady calls on the Egyptian Authorities to release him, stop the abuse inflicted on him, along with his family who paid a heavy price for their participation in the January 25th Revolution, and permit them and his lawyer to visit him and check on his health and physical condition at the moment.