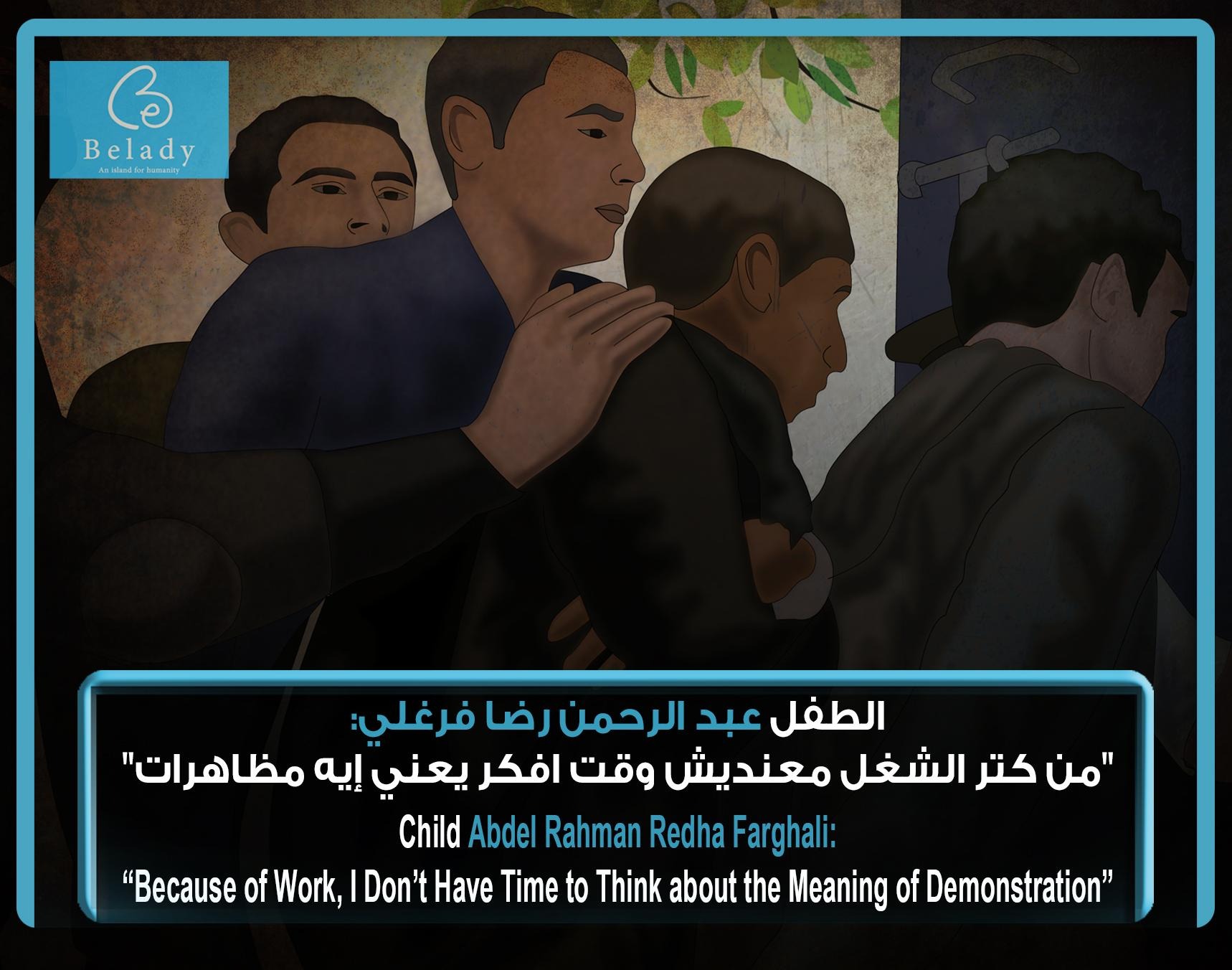 الطفل عبد الرحمن رضا فرغلي, عنده 18 سنة تقريباً, اتقبض عليه قبل ما يكمل 16 سنة بتهمة الانضمام لجماعة إرهابية مع العلم باغراضها, وحيازة سلاح ناري, وتم إدراج اسمه في القضية رقم 1530 لسنة 2019 حصر أمن الدولة العليا, والمعروفة إعلامياً بقضية الجوكر.
Abdel Rahman Redha Farghali, the 18-year old child, was arrested before turning 16 for joining a terrorist group with knowledge of its purposes and possessing a firearm. He was included in Case No. 1530 of 2019- Supreme State Security, known in the media as the Joker case.
الطفل عبد الرحمن هو أكبر إخواته الولاد, بعد وفاة والده قرر إنه يشتغل بجانب دراسته في المرحلة الثانوية, وفعلاً كل يوم وبعد ما يخلص مدرسته كان بيشتغل لمدة 12 ساعة متواصلين!!
ينزل مدرسته, يروح شغله, يرجع ينام ساعات قليلة وبعدها ينزل مدرسته من تاني.
The child is the eldest among his brothers. After his father's death, he decided to work alongside his studies in high school. Indeed, he worked after school every day for 12 hours straight.
He goes to school and then to work. He returns home to sleep for a few hours and then heads to school again.
وفي يوم وهو راجع من شغله بليل وبيشتري طلبات البيت لقى أصحابه تحت البيت بيتكلموا عن المظاهرات اللي بتحصل في السويس, سمع شوية من كلامهم وطلع بيته من غير حتى ما يسأل أو يستفسر عن اللي بيحصل.
One day, while he was returning from his work at night and buying groceries, he met his friends in front of his house talking about the demonstrations in Suez. He listened to them for a bit and entered his house without even asking or inquiring about what was happening.
وبعد 3 شهور تقريباً, ومع بداية سنة 2020 اقتحمت قوات الأمن منزل الطفل عبد الرحمن عشان يقبضوا عليه, بس كالعادة كان الطفل في الشغل اللي اخد كل وقته.
مخلصتش القصة هنا لأن قوات الأمن راحت للطفل الشغل بتاعه وقبضوا عليه من هناك !
After three months and at the beginning of 2020, the security forces raided the child's house to arrest him. Yet, Abdel Rahman was as usual at work which occupied all his time.
The story didn't end here because the security forces went to the child's workplace and arrested him there !
اختفى الطفل عبد الرحمن قسرياً في مقرات الأمن الوطني لمدة شهر ونص تقريباً, عانى فيهم من التعدي بالضرب المستمر خلال فترة احتجازه المخالفة للقانون, وبعدها ظهر أمام نيابة أمن الدولة العليا على ذمة قضية الجوكر, واتوجه ليه تهم أشهرها الانضمام لجماعة إرهابية, وحيازة سلاح ناري وذخائر.
The child Abdel Rahman was forcibly disappeared in the headquarters of the National Security for about one month and a half. He suffered from continuous beatings during his illegal detention. Later, he appeared before the Supreme State Security Prosecution in connection with the Joker case. He was mainly charged with joining a terrorist group and possessing a firearm and ammunition.
الطفل عبد الرحمن طفل جدع, قرر يشتغل وهو في سن صغير, وكان سند وظهر لأسرته بعد وفاة والده. ميستحقش يخسر سنين عمره في السجون بسبب تهمة هو أبعد ما يكون عنها.
ادعموا الطفل عبد الرحمن, وكل أطفال قضية الجوكر, و طالبوا بحريتهم عشان هما يستحقوا يعيشوا طفولتهم بعيد عن رحلة السجون المؤلمة.
The child Abdel Rahman is a brave child. He decided to work at a young age to support his family after his father's death. He does not deserve to waste years of his life in prison because of a charge that is beyond his reach.
Support the child Abdel Rahman and all the children of the Joker case and demand their freedom because they deserve to live their childhood away from the harrowing prison journey.
#أطفال_الجوكر
#الحرية_للأطفال
#بلادي_مصر
#JokerChildren
#FreedomForChildren
#Belady_Egypt