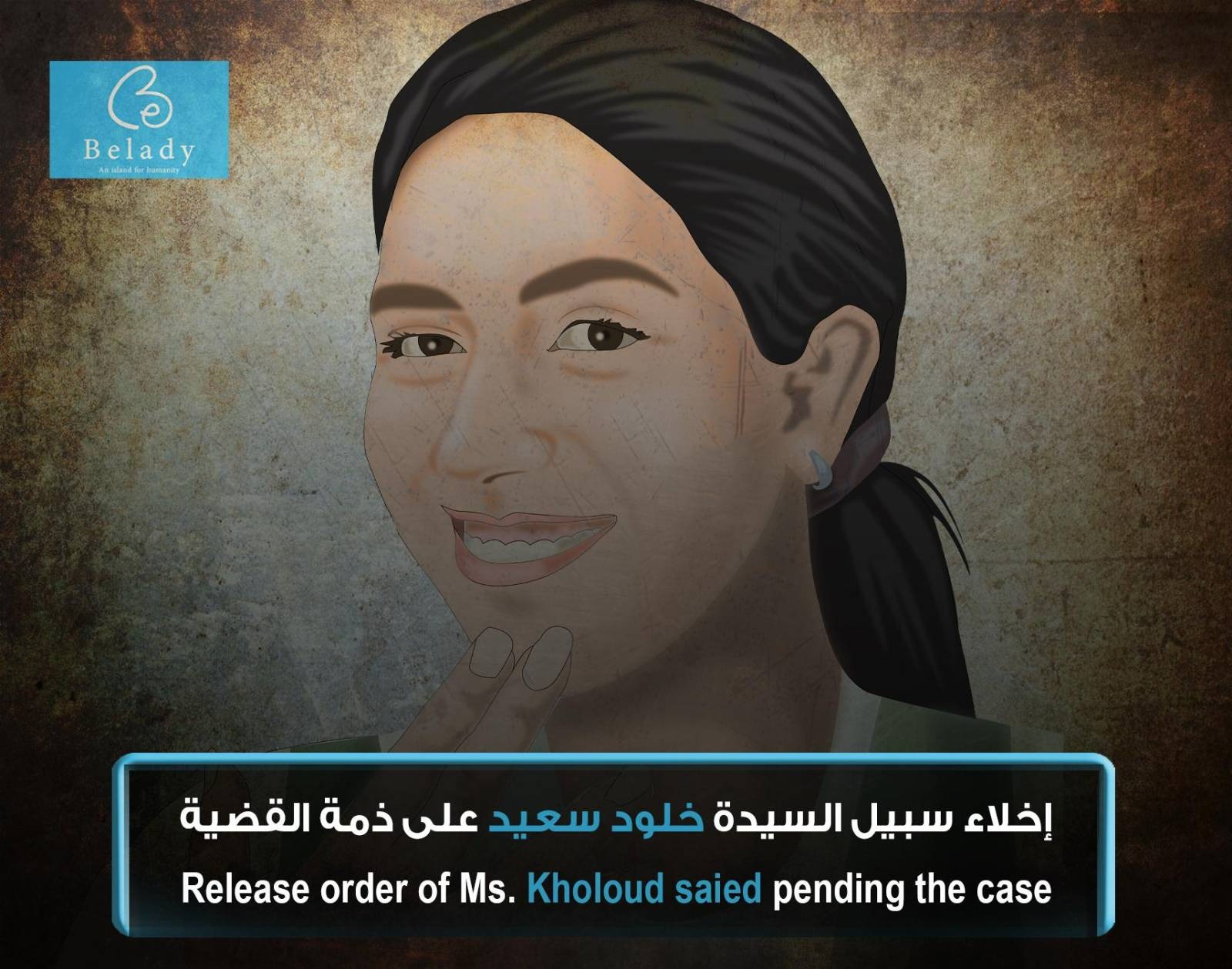 Belady sends its sincere congratulations to Mrs. Kholoud Saeed Mohammed Ibrahim Amer. The Cairo Criminal Court decided to release her under the guarantee of her place of residence, pending Case No. 1017 of 2020-Supreme State Security.
Milestones on Mrs. Kholouds journey
1 – Mrs. Kholoud Said Mohamed Ibrahim Amer, aged 37, works as a researcher and head of the translation unit at the Alexandria Library. She is also a resident of Alexandria Province.
2- She was arrested from her house on April 21st, 2020 by the competent security forces. Her computer and mobile phone were confiscated, and she had remained under forcibly disappeared for a week.
3- Kholoud appeared on April 28th, 2020 before the Supreme State Security Prosecution pending Case No. 558 of 2020 -Supreme State Security accused of participating in a terrorist organization with knowledge of its purposes, publishing false news and data, and using her personal account on the Internet and social media sites to serve these activities.
4- The court decided to release her from the Case No 558 on December 13, 2020, but after deporting her from Al Qanater prison to the police department to finalize her exit procedures, she was forcibly disappeared for the second time in a row, and her family was unable to reach her place of detention.
5- After 13 days, the lawyers were surprised to see her appearing before the Supreme State Security Prosecution again and being rotated in the Case No 1017 of 2020 Limiting the Supreme State Security, and the same accusations were leveled in the previous case.
6- Kholoud remained in pretrial detention pending on the aforementioned case, until a decision was issued to release her yesterday, May 29, 2022, with the guarantee of her residence.